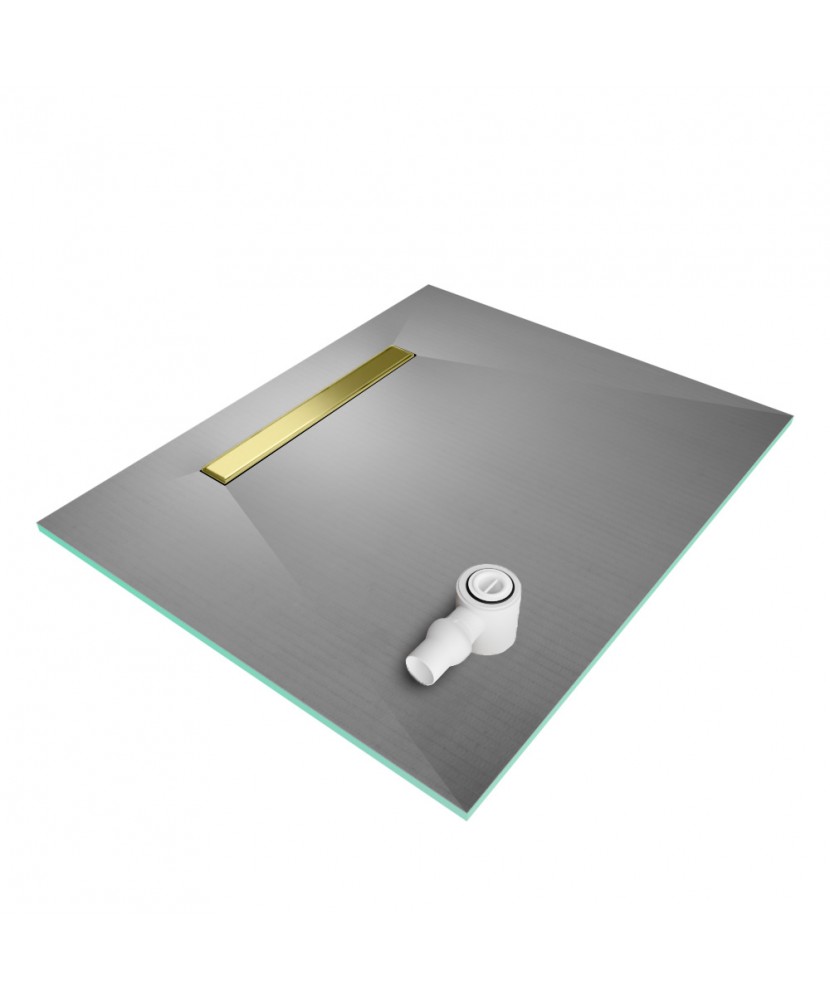  
Wet Room Shower Tray 1600 x 900 x 30 mm Linear Side 600 mm Flexi Gold Dual
Our most popular size tray, but this one offers the drain along the 1600mm side of the tray. The drain is 600mm long and is located 150mm from the edge. This is a great option for a shower that is wider than it is longer. Our Wet Room Shower Trays with Linear drains for tiled floors are the most versatile shower former you will find. They come with an integrated 600mm linear drain and are available in various sizes with different drain positions.
Each Tray's Advanced 3 piece drain offers plenty of flexibility and safety as well. The integrated plastic channel is factory installed into the tray assuring a water tight seal and allowing for the waste trap to be connected anywhere along the channel. The 304 grade stainless steel frame and cover make up the remaining parts of the drain. They are available in a variety of PVD coated colours and finishes. The frame is height adjustable to match the finished floor height. It also offers secondary drainage in case water were to ever penetrate the floor covering it will find its way to the drain. The cover itself is reversible, allowing you to either leave it right side up for a stainless steel finish to the cover or flipping it over and tiling inside for a tiled finish.
These XPS foam Trays have a 4 way slope machine cut into with an estimated 1-2% gradient fall. The bottom side of the tray is level and the integrated channel does not protrude below the tray allowing for both timber and concrete floor installation. Furthermore the hole (hole cutter provided) for the waste trap is drilled on site by the installer making avoiding joists that much simpler. Although the tray provides great thermal and acoustic insulation it is not structural so it will require to be supported throughout its entirety. The Trays are trim-able and can be cut down to a specific size or to avoid corners or match uneven walls or irregular angles.